Edward Berge, a Maryland artist lived 1876 - 1924.
"At the Water's Edge"
Bronze Garden Fountain 22" tall. Signed in casting. This edition was cast from Berge's Original Terra Cotta Model by Szymanski Gallery of Beverly Hills in 1988 in Los Angeles This high quality domestic bronze was designed to be used in a fountain. If drilled and plumbed as intended by Berge, the fish on the base will be squirting streams of water on to the seated model.
This example is in excellent physical condition, as it has been stored in an inside environment.
Artist: Edward Berge
Active: Maryland
Title: On the Trail (Looking For The Honest Man)
Category: Sculpture
Medium: Bronze
Signature: at base, "Berge"
Size: 32.5"
Style: Naturalist
Seller's Notes/Description: Exceptionally rare form from Berge. Certificate of Authenticity will be included.
Price: Please Contact Dealer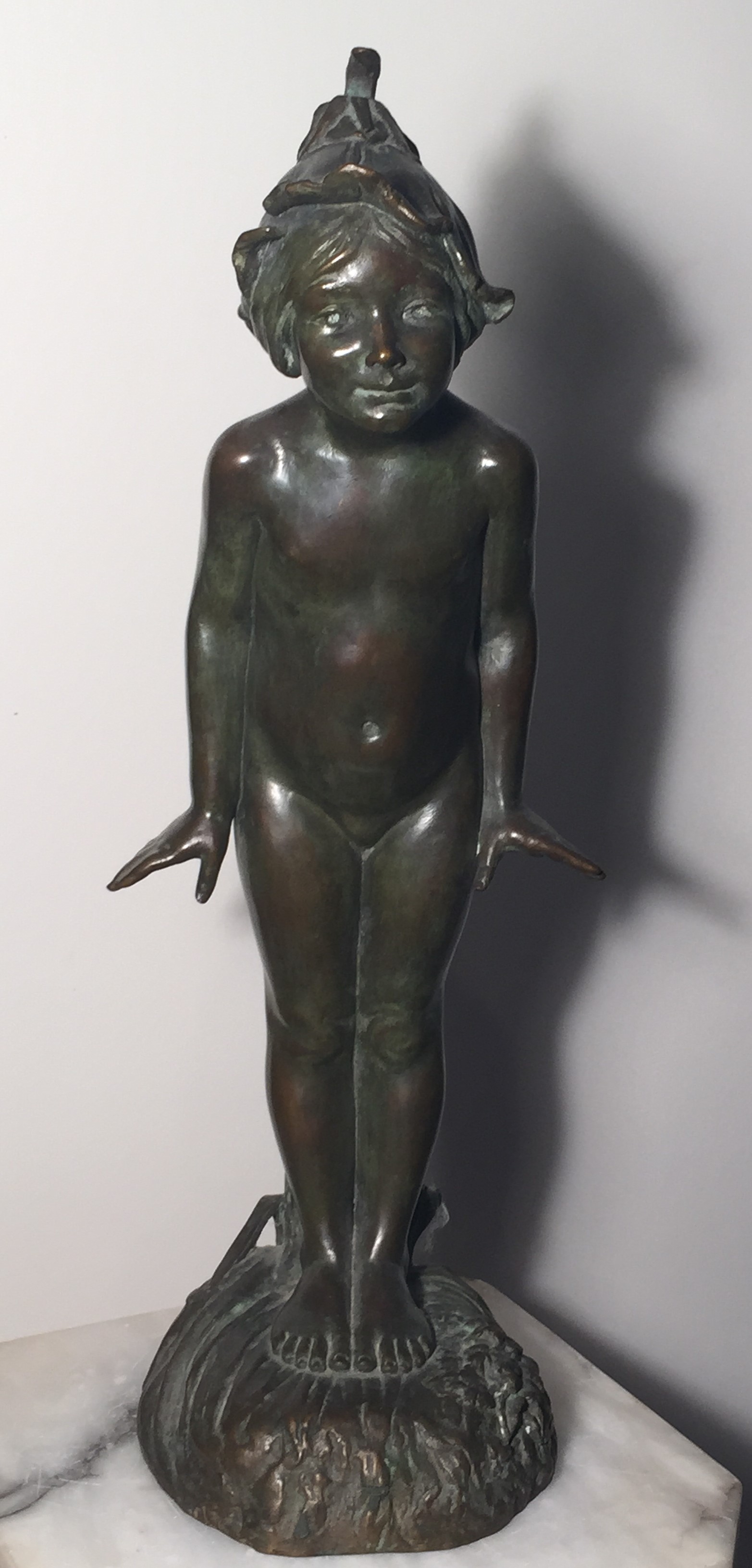 Artist: Edward Berge
Active: Maryland
Title: Wildflower
Category: Sculpture
Medium: Bronze
Signature: on base, in mold
Size: 20.5" tall
Foundry: Roman Bronze works, NY
Price: $12,000
The following biography from the Archives of askART
A Baltimore, Maryland sculptor Edward Henry Berge was known for his bronze monumental works and figures. He studied at the Maryland Institute and the Rinehart School in Baltimore and the Academie Julian in Paris.
In the 1915 Panama-Pacific Exposition, his work was briefly described by art historian Sheldon Cheney in his 'Art-Lovers Guide to the Exposition'. "Perhaps the best way is to start first to familiarize oneself with the smaller bronzes of the purely lyric type, the charming garden figures, sun-dials, and miniature fountains, that make up such an attractive part of the collection. Note how often the names of Edward Berge, Janet Scudder and Anna Coleman Ladd recur in connection with this graceful, intimately appealing sort of sculptureOn another day take the intermediate group, that is dignified but less austere in theme - such works as Sherry Fry's 'Peace,' and Berge's 'Muse Finding the Head of Orpheus.' Studied systematically, there is in this series of statues a broad education in the appreciation of sculpture."

Sources include:
http://www.books-about-california.com/Pages/Art_Lovers_Guide_to_Expo/Art_Lovers_Guide_Chap_12.html
Peter Falk, "Who Was Who in American Art"