Nicolai Fechin - Taos Beauty
Artist: Nicolai Fechin (1881 - 1955)
Active: New Mexico, California / Russian Federation
Title: Taos Beauty
Category: Sculpture
Medium: Bronze
Signature: Signed in base, as part of casting
Size: 6" tall
Style: Impressionist
Seller's Notes/Description: This edition of bronzes was produced from the original wood carving by Nicolai Fechin. The original carving was completed in 1950, and this edition of bronzes was cast in 1999. Certificate of Authenticity will be included.
Price: $4,500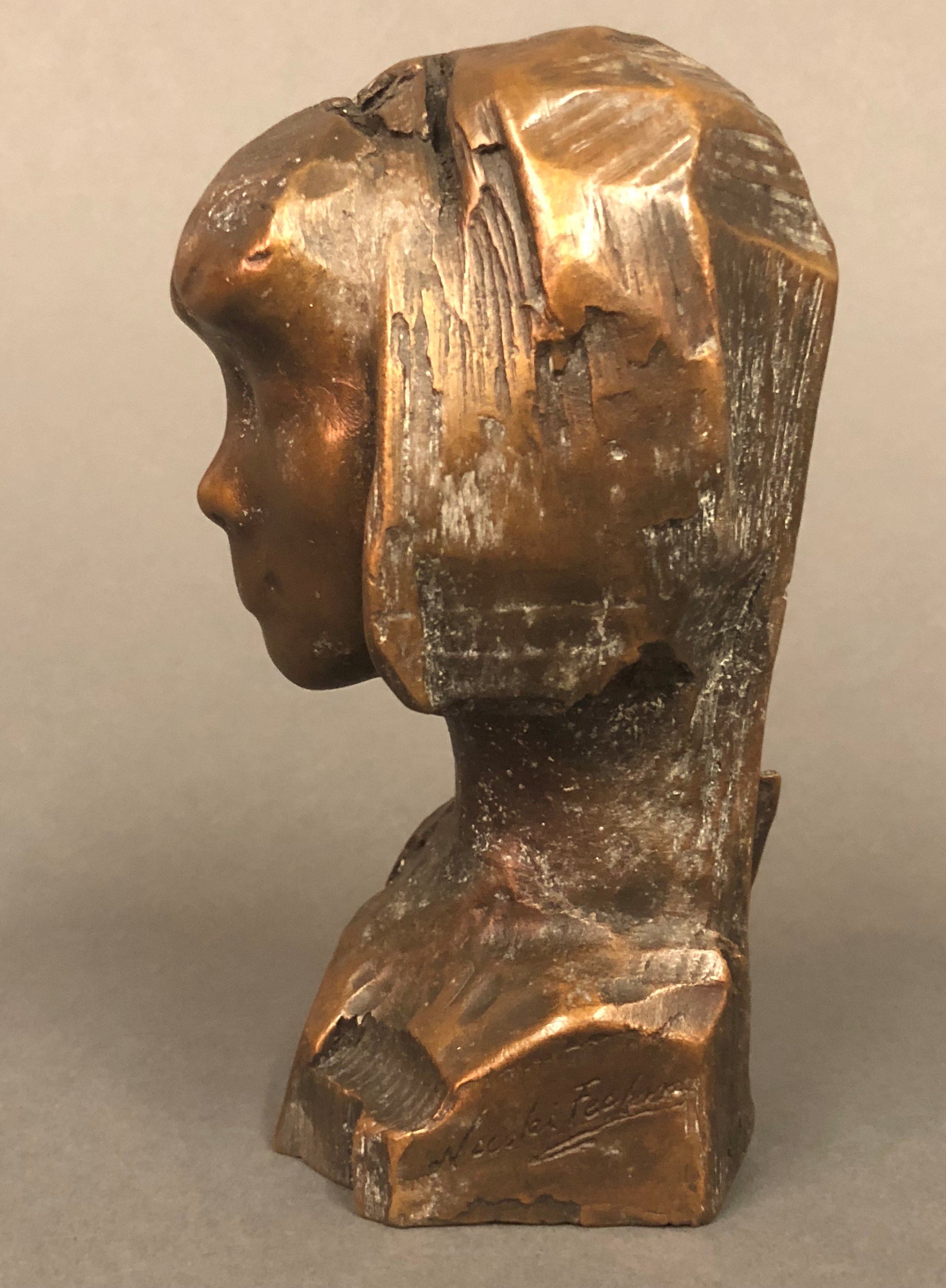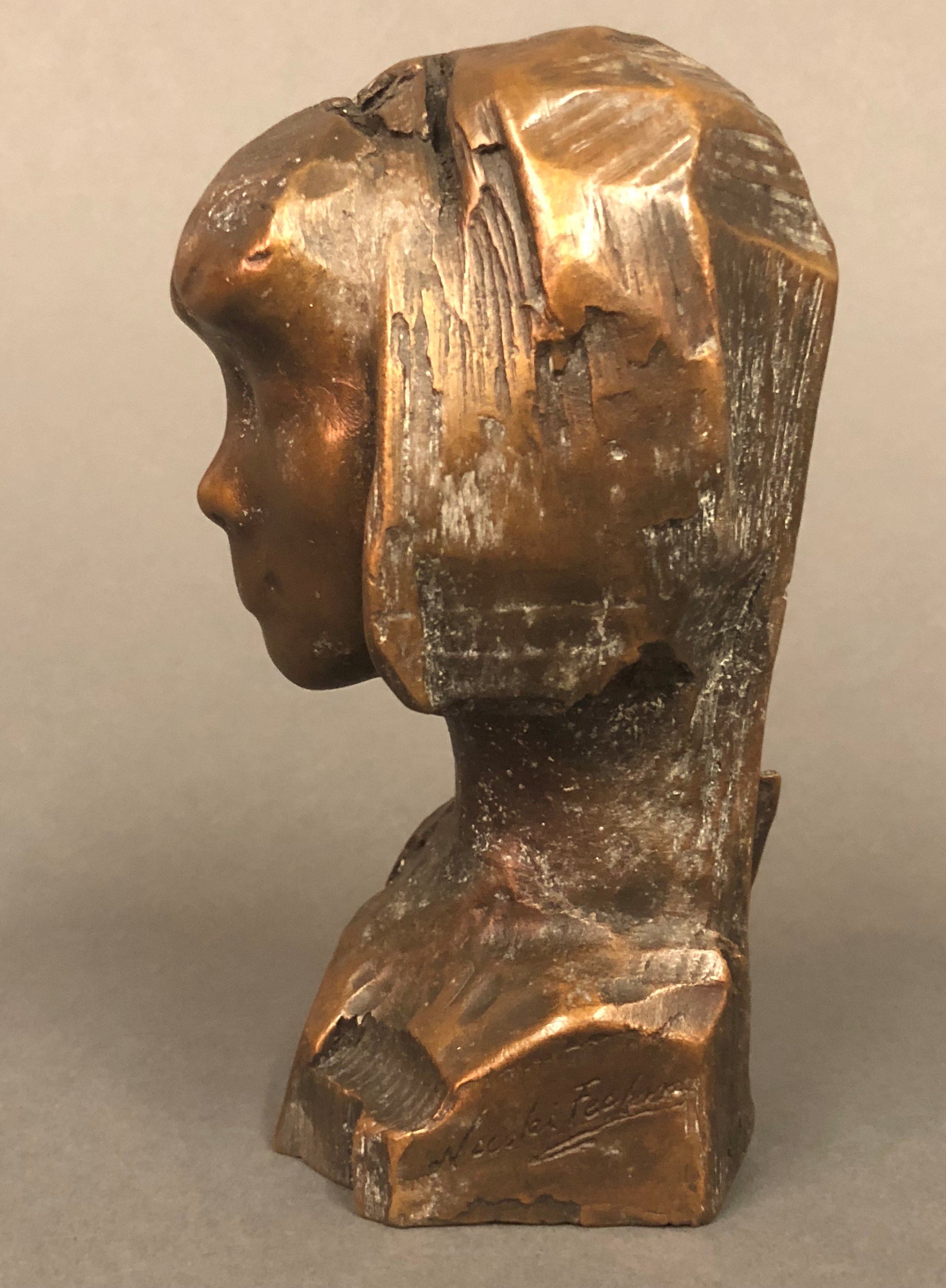 Artist: Nicolai Fechin (1881 - 1955)
Active: New Mexico, California / Russian Federation
Title: Taos Beauty
Category: Sculpture
Medium: Bronze
Signature: Signed in base, as part of casting
Size: 6" tall
Style: Impressionist
Seller's Notes/Description: This edition of bronzes was produced from the original wood carving by Nicolai Fechin. The original carving was completed in 1950, and this edition of bronzes was cast in 1999. Certificate of Authenticity will be included.
Price: $4,500
Click on the image above for a full size view.
Biography from the Archives of askART
Born in Russia in Kazan on the banks of the Volga River, Nicolai Fechin became one of America's foremost ethnic portrait painters during the early 20th century.
He spent his childhood in the Volga Forest and learned wood carving from his father who worked with metals and wood as a craftsman. When he was 13, Fechin enrolled with a scholarship at the Kazan Art School, founded by his grandfather, and six years later, he began study at the Imperial Academy of Art in St. Petersburg. There he was a student of Ilya E. Repin, who tried to make his students aware of social evils and to reflect the realities of Russian life in their art work. Architecture was also a required part of the curriculum. Fechin was highly influenced by Repin, who asserted that artists' work should be motivated by the idea of conveying morality and literal truth rather than just aesthetics. A second teacher, Malavin, taught him to use wide, nervous-seeming brush strokes and to use his fingers in the paint to achieve a sense of texture.
After graduation from the Academy, Fechin was a teacher at the Kazan Art School, and also studied at the Imperial Academy of Art in Petrograd, which became Leningrad. Excelling there, he earned scholarship money to study in Paris and throughout Europe, and he was glad to leave Russia because of suffering deprivation during the Bolshevik Revolution. In Europe, he was fascinated by the Impressionists' manner of breaking up color, and he experimented with this style and with painting with a palette knife.
Very poor, he and his wife, Alexandra Belkovitch, and baby daughter, Eya, emigrated to America in 1923, something his wife insisted they do. Helped by wealthy sponsors, the family settled in Central Park in New York City where he struggled for a while to find work. Meanwhile he painted the variety of ethnic subjects he saw around him and was especially fascinated by black-skinned people. He taught at the New York Academy of Art until he gained gallery recognition, and his skills for portraiture became so well known that many upper class persons including novelist Willa Cather sought him out to do their portraits. During the summers, the family traveled west including to California, New Mexico and Pennsylvania.
When Fechin's suffering from tuberculosis became quite troublesome, his artist friends, John Young-Hunter and his wife, Mary, persuaded him to join them and their circle of friends in the drier climate of Taos, New Mexico. The Fechins stayed with former New Yorker Mabel Dodge Luhan for several months and felt comfortable in a community of adobe architecture and Indians that reminded him of Tartars of Kazan. Describing her father's reaction to this environment, his daughter, Eya, later wrote: "He loved the place. He had found an American 'home'. He said the Taos mountains reminded him of the beauty he had seen in Siberia. He painted with fervor. He felt particularly close to the Indians and his greatest American works were of Indians." (Balcomb xi-xii)
He built the family home around a previous structure, and inspired by Russian folk art, crafted much of the furniture using pinon fireplace logs . He also did intricate carving on the interior beams, columns and doors as well as the furniture.
In Taos, he was a hard-working man who did not socialize much but did numerous portraits of Indians, Mexicans and cowboys. These paintings are regarded as among his best work because of the exotic subject matter, high degree of modeling of the faces, and forceful, intense coloration. He also did impressionist wood sculpture.
In 1927, stormy divorce proceedings with his wife caused him to leave Taos. He and his daughter, Eya, went to New York briefly, and in 1936, about six months later, to California on the invitation from Los Angeles art dealer, Earl Stendahl, to have art shows and teach classes. For the next ten years, Fechin and Eya lived near each other in the Hollywood Hills. Fechin was well received, and his spirits picked up with his popularity among his students and the sales of his artwork. Bob Wagner in his magazine "Critic" wrote in the May 12, 1934 issue: "The first Nicolai Fechin canvas I ever saw nearly put me on my back---such color and brilliancy of technique!. . .what I saw convinces me that this Russian is one of the great artists of all time." (Balcomb xiii)
From California, Fechin traveled to Mexico, Japan, Java and Bali, which he loved and where he spent considerable time, but the damp climate caused him illness.
In the mid 1940s, Eya married, became a performing modern dancer and dance therapist, and then moved around, living in Colorado, New Mexico, and then in Iowa where she opened a psychodrama department in a state mental hospital. After some years, she divorced, remarried, and moved back to California. Meanwhile, left alone with a big house, Fechin decided at the urging of Eya to buy his Santa Monica studio property. There, according to his daughter, he was content and social "in contrast to his withdrawn silent attitude towards people in the past." (Balcomb xvi)
Shortly before he died in Santa Monica on October 5, 1955, he was persuaded by his biggest collector and good friend, John Burnham, to have a simultaneous retrospective at the art museums in San Diego and La Jolla. The events were huge successes and a chance for Fechin to see canvases he had not seen for many years.
After the death of Nicolai Fechin, his former wife and daughter lived in the family home in Taos. In 1981, Eya Fechin Branham spearheaded the formation of the Fechin Institute, a non-profit, educational organization headquartered in the house. An extensive collection of his work is housed there. Also the Stark Museum in Orange, Texas has over 50 Fechin paintings as well as some of his wood carvings.

Source:
Mary Balcomb, "Nicolai Fechin"
Edan Hughes, "Artists in California, 1786-1940"